January, 2023
Bill's 5th Anniversary at BWI Eagle!
Time flies when you're having fun! It's been five years already since Bill joined our team. We took some time out today to celebrate!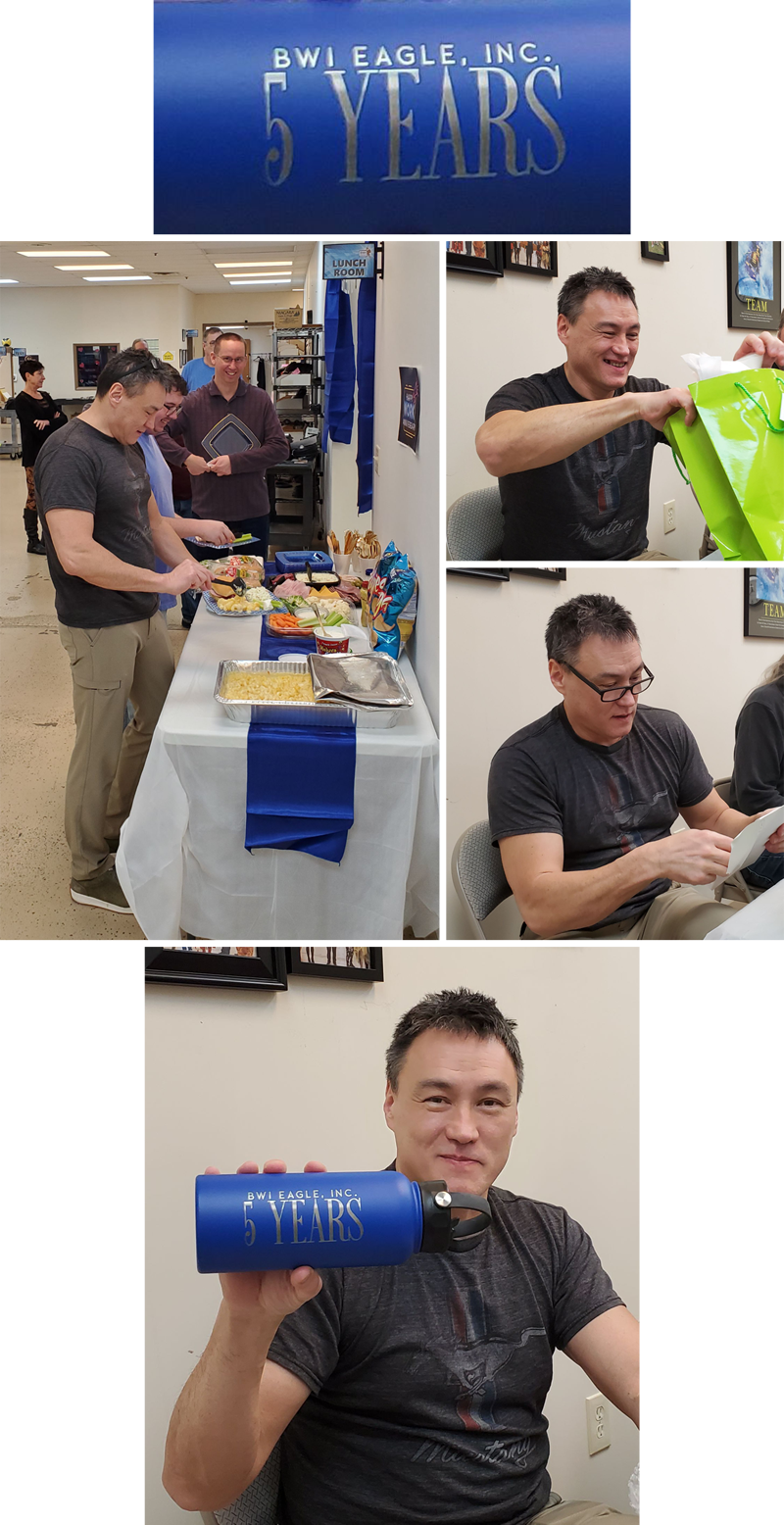 Congratulations, Bill!
December, 2022
Gingerbread House Competition
At the beginning of December, the company divided into 3 teams. For the next couple weeks, the teams strategized to come up with plans for the best gingerbread village. Secret plans were devised, blueprints were drawn, supplies were procured, until last Tuesday afternoon when it all came together.
The teams had a 2 hour time limit to start and finish their masterpieces.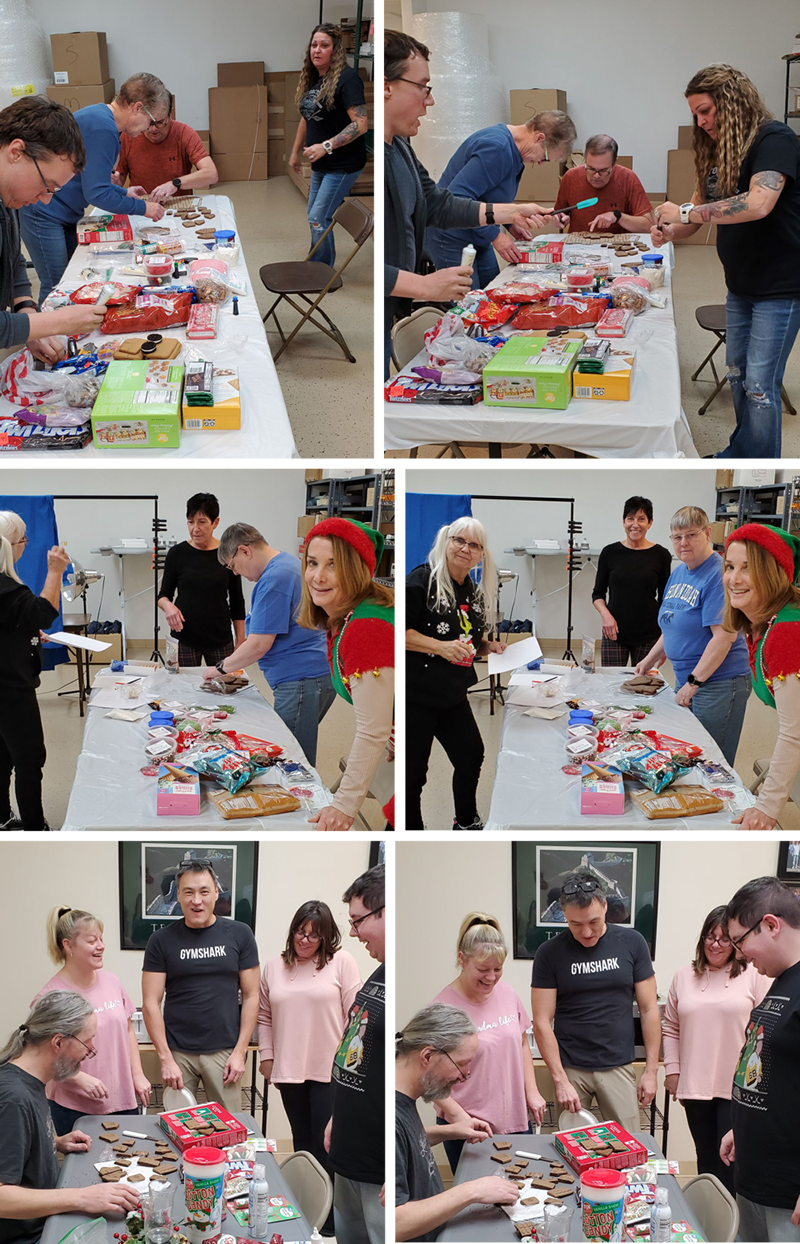 Team #1 chose "Jeepin' Through The Woods" as their theme as Jeeps are very popular among BWI employees. Their houses were not very fancy, but they made up for it with the Jeep action happening in the foreground. Note that one white vehicle stuck in the mud, needing a tow back onto the trail... that one's not a Jeep. That's Jeanette's Chevy. Such amazing real-life accuracy!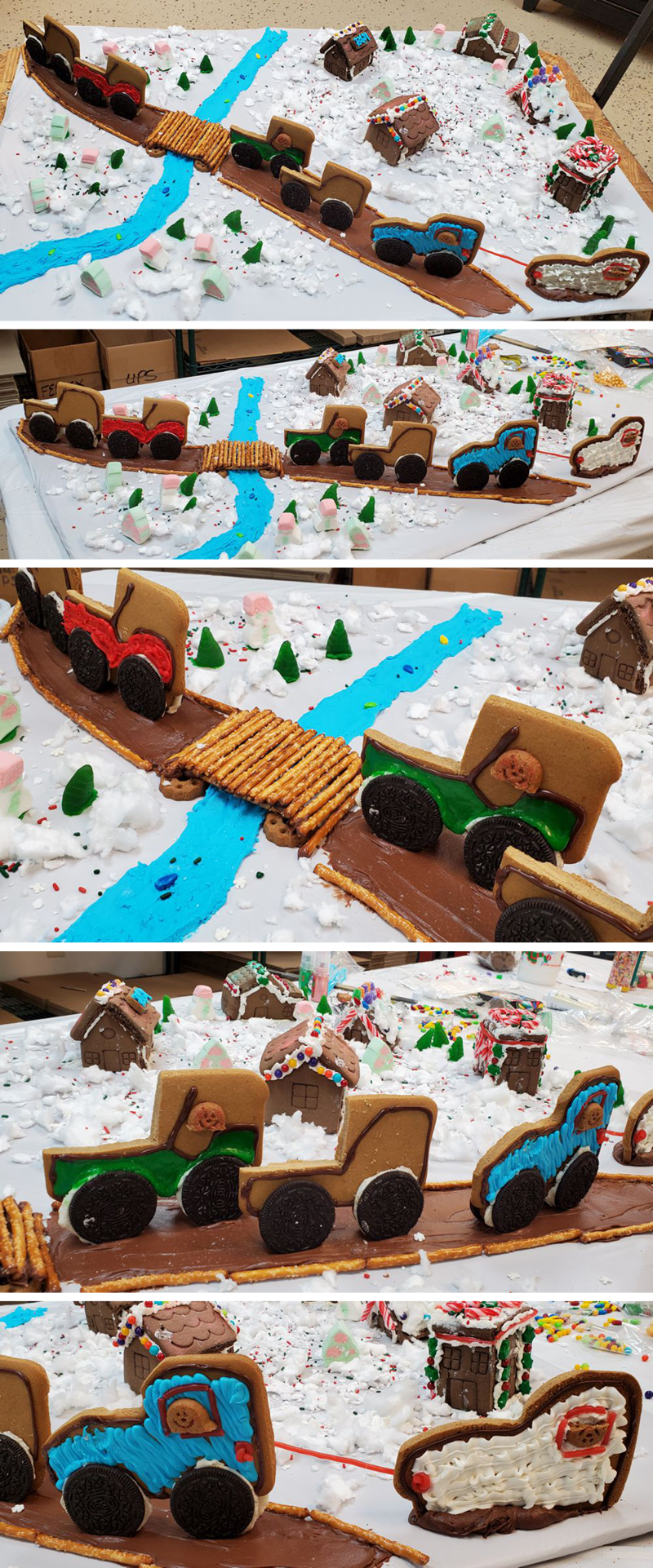 Team #2 went with a classic Christmas scene in "Whoville Hamlet". You can almost hear Cindy Lou Who singing around the Christmas tree while the Grinch scowls down at the town from Mount Crumpit. Team #2 came up with some very creative materials to make their display picture perfect. The one rule on materials was that everything used on the project had to be edible.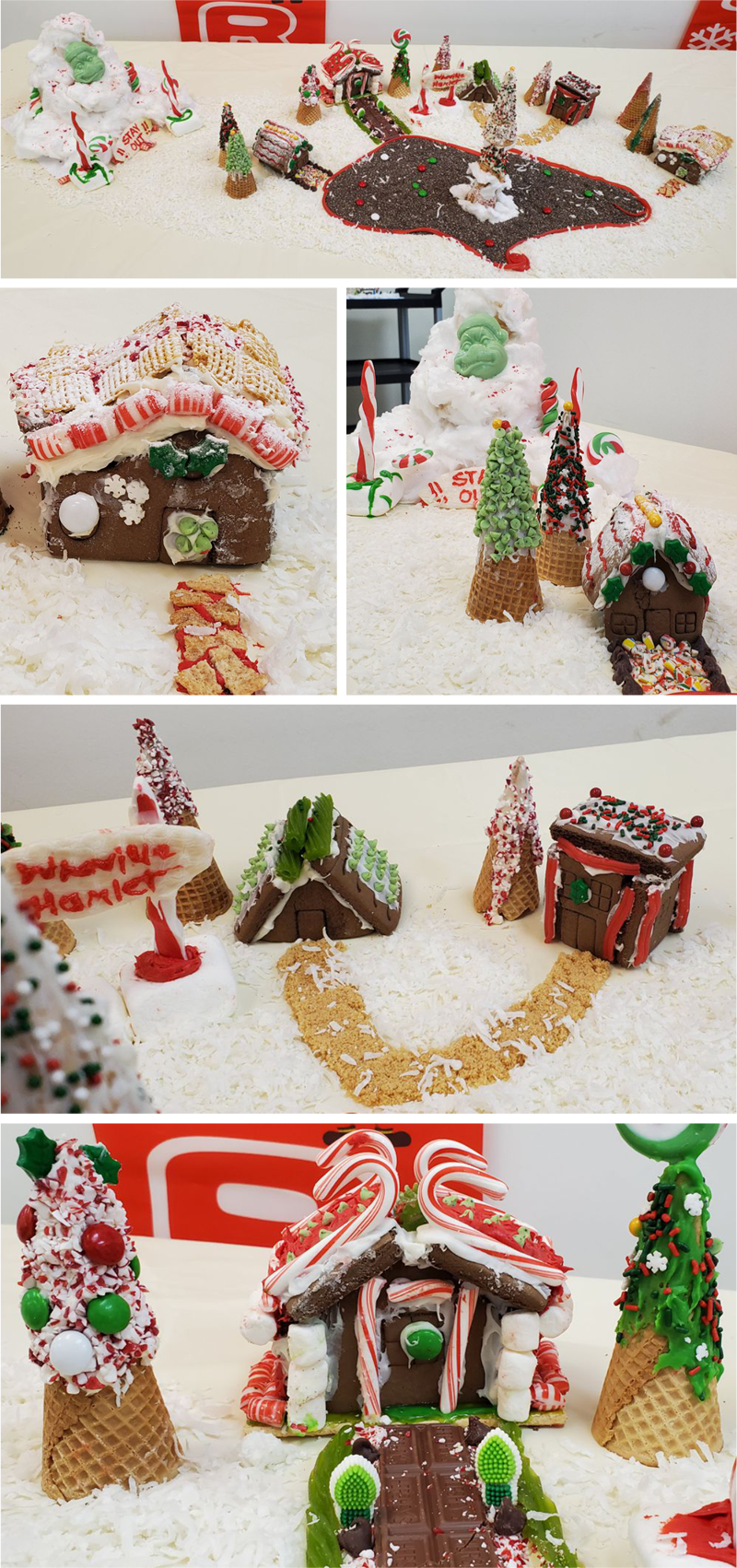 Team #3 honored our favorite project for one of our favorite customers. "Coopville" is a whimsical depiction of an egg production farm that automated their chicken feeding equipment with BWI Eagle remote controls. Although we've never been there in person, we imagine it probably looks exactly like this. Team #3 stuck to the contest rule of preparing nothing in advance, even waiting until gametime to melt white chocolate into "chicken" candy molds. Minor foul (fowl?) on the play when the mold turned out to be ducks instead of chickens.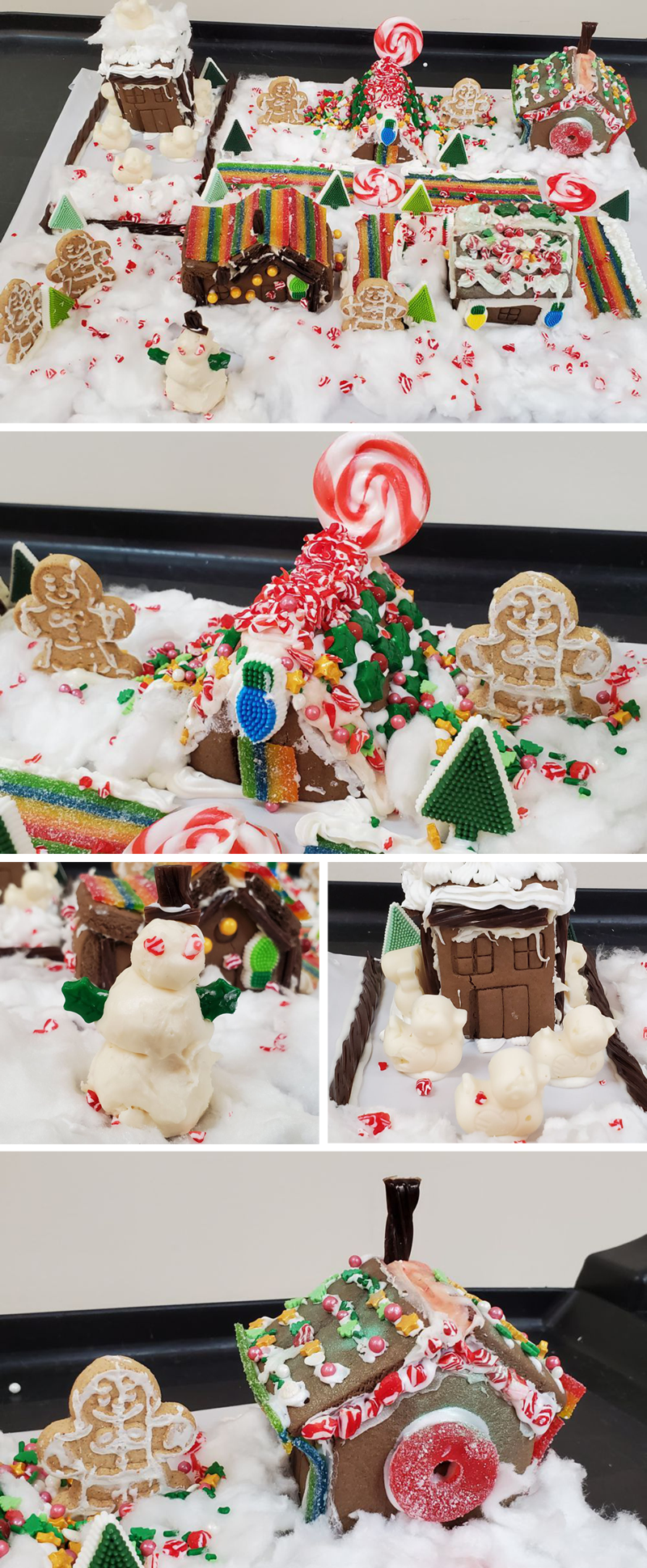 Everyone had a great time constructing their gingerbread villages. After all the votes were counted, John won the trophy for best individual house and "Coopville" won the grand prize for best overall display.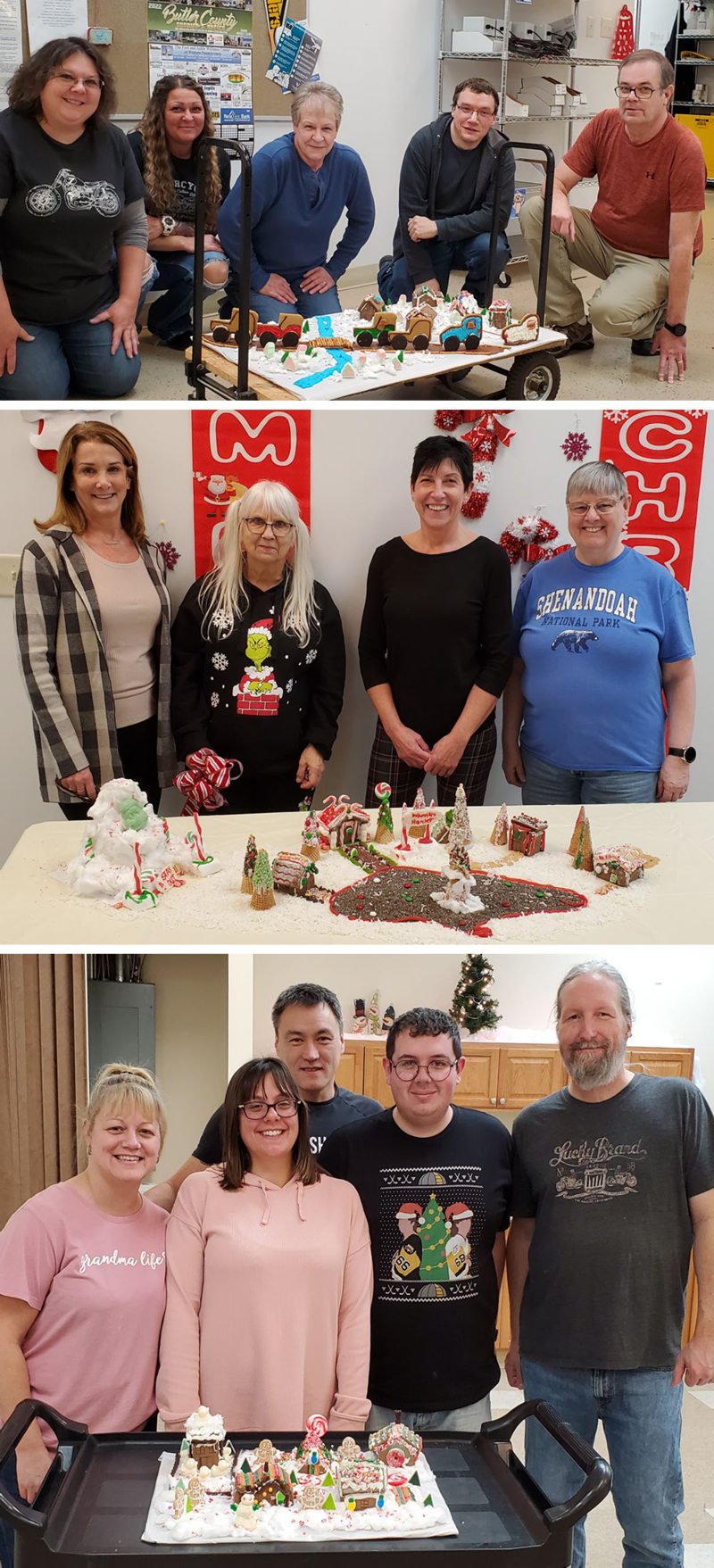 December, 2022
BWI Eagle Company Christmas Party
The BWI Gang tried something different for our Christmas party this year. We gathered at The Back Alley Event Center for a fun afternoon of food, drink, and games.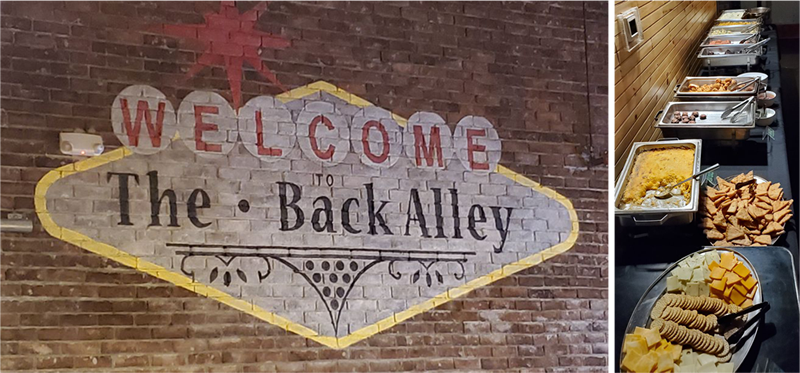 It was fun to see everyone outside out of work. We hung out and celebrated the end of another great year.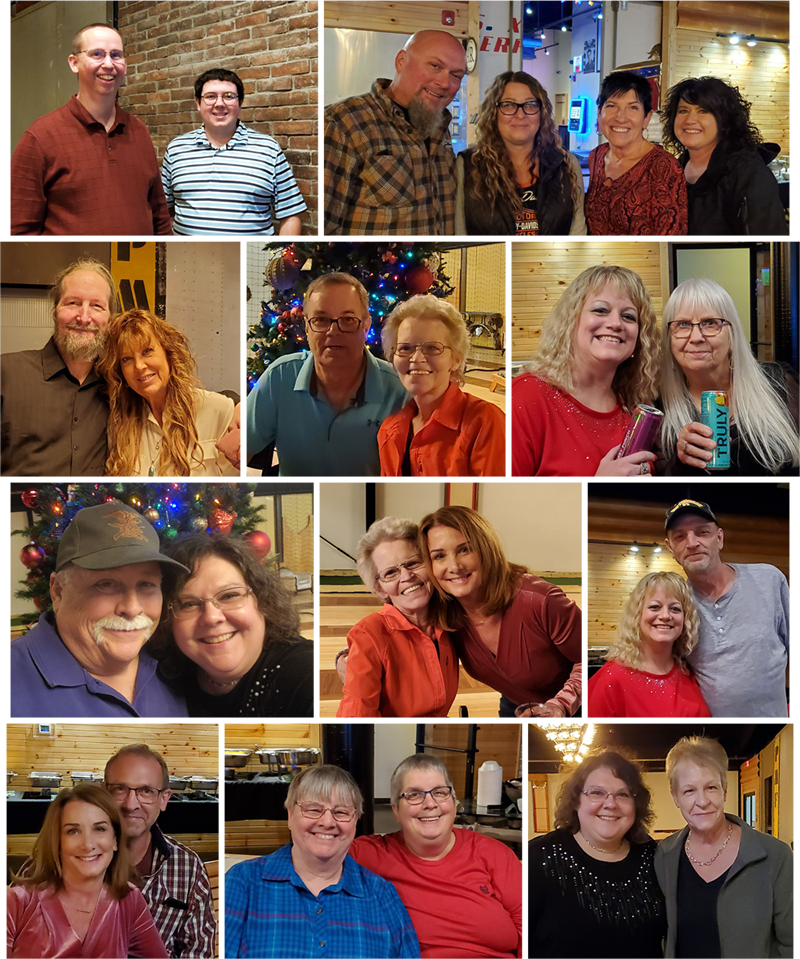 After enjoying a delicious spread of food, we took advantage of all the activities included in the party room. Duck Pin Bowling, Pig Skin Bowling, and Corn Hole were all big hits!

Merry Christmas, Everyone!
October, 2022
Happy Halloween!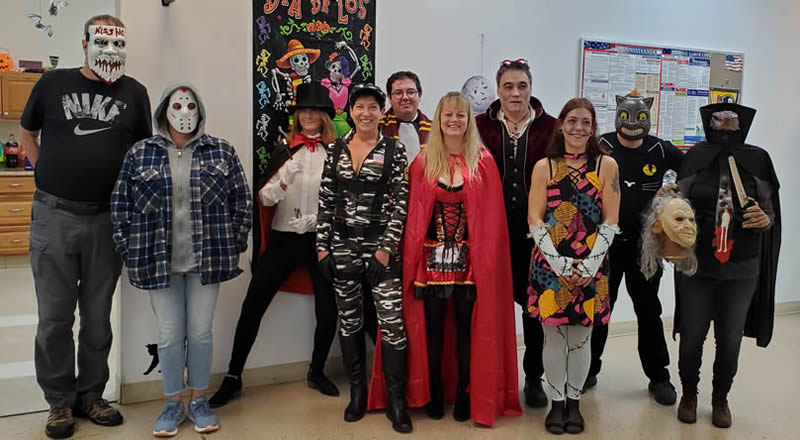 August, 2022
The Not-So-Great Race
It all started innocently enough when someone suggested "Let's all go for a bike ride!"
Pre-ride conversations turned into comparing the exercise qualities of a stationary bike vs a "real" bike. Someone stated that riding a stationary bike was "easy" compared to a "real" bike. Others disagreed, saying spin classes provided more than enough of a challenge to build up the stamina, strength and speed to succeed on a "real" bike.
A challenge was issued. A date and time were confirmed. Snacks and refreshments were procured. The bet was on!
Two camps formed: Team Stationary (featuring Spin Class alumni, Jeanette) vs. Team 5G (because Greg claimed he would ride faster than 5G internet with his "real" bike experience).
As race day approached, the trash talk between sides intensified. Both sides were confident enough in the outcome that they agreed to "make it more interesting" with a wager…
If Team Stationary wins: the loser, Team 5G must attend a spin class.
If Team 5G wins: the loser, Team Stationary must attend a country music concert and buy 5G's dinner.
Race Day finally arrived. It was a beautiful, warm, sunny day. A course was selected along the Moraine State Park bicycle path. Donning helmets and riding gear, four contestants made final preparations for the race of their lives! With Dave's drone capturing aerial footage overhead, Jeanette, Greg, Bev, and Karey took off pedaling! Bill followed along as the medic, with his backpack full of first aid supplies.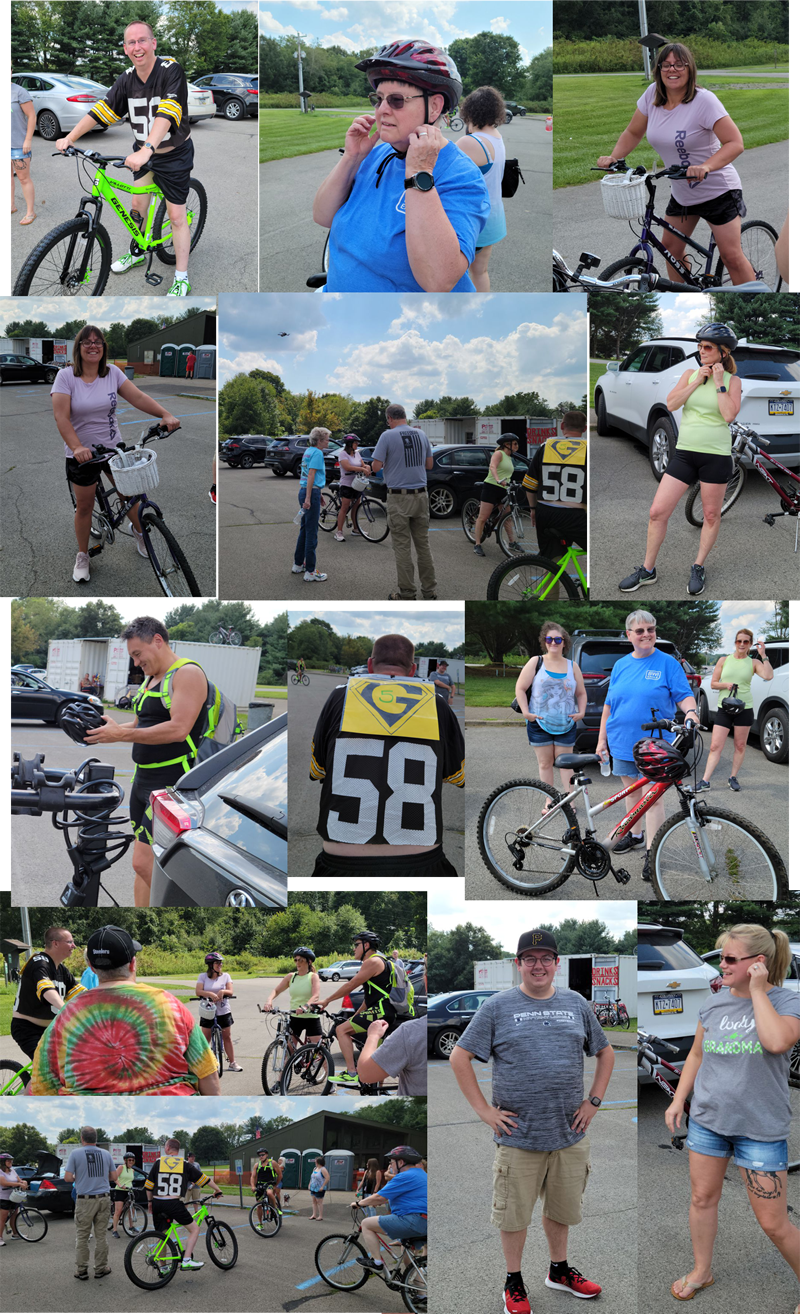 Team Stationary was the first to cross the finish line! Jeanette was awarded a championship "diamond"-studded belt, a congratulatory certificate, and most importantly; bragging rights!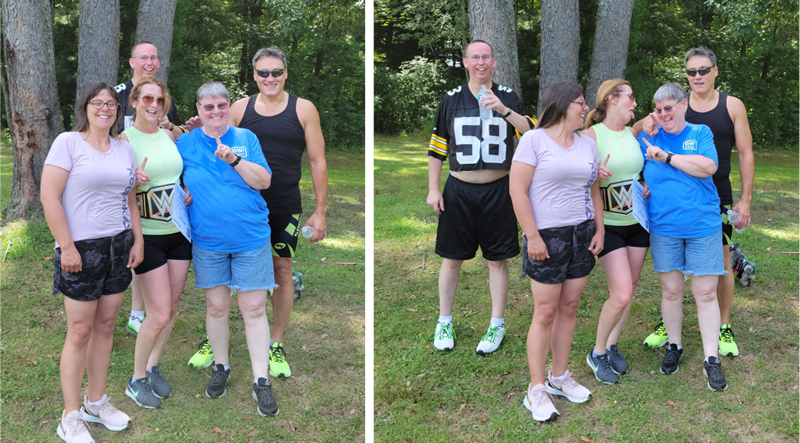 Later, Team 5G honored the bet and attended a spin class where Greg learned that spinning is not for the faint of heart. Although, he noted the disco lights and loud music were a nice distraction from the pain.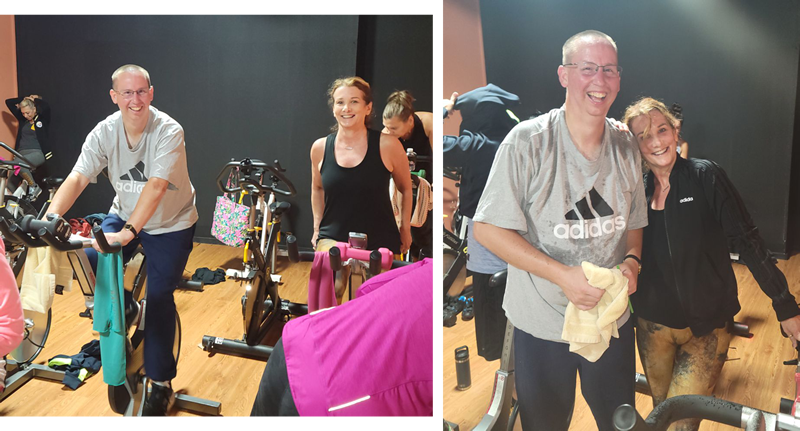 Everyone agreed the bike race should become an annual event. Bylaws have since been written to establish guidelines for future bets, competitions, and for dealing with those who whine when they lose.
July, 2022
Celebrating a Decade with Rosie!
Today marked a big milestone for Rosie: 10 years at BWI Eagle! We celebrated with lunch and gifts of appreciation for a decade of hard work and dedication.
Thank you, Rosie, for everything you do here!
February, 2022
After 30 Years, John is Still a Cut Above the Rest!
John's 30 years of service with BWI Eagle is cause for celebration! The festivites started out with a feast of John's favorite fare: Barbecue!
Chicken wings, and pulled pork, and beef briscuit, oh my!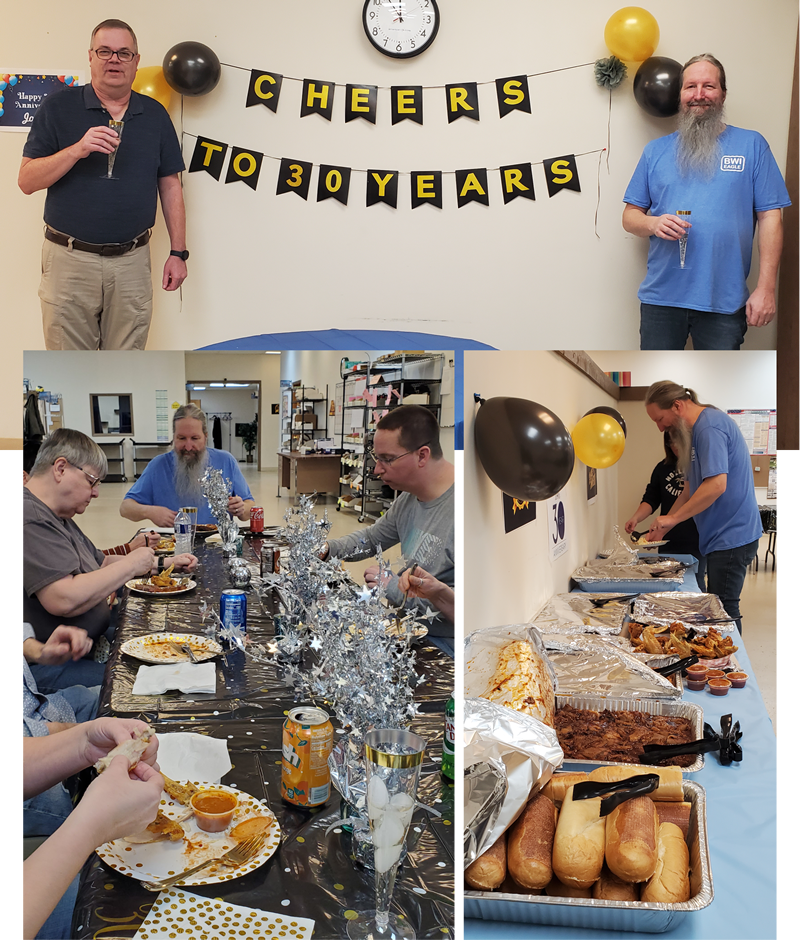 After dinner, conversation turned to stories of the good old days and the adventures of Dave and John during BWI's early years. Lots of laughs!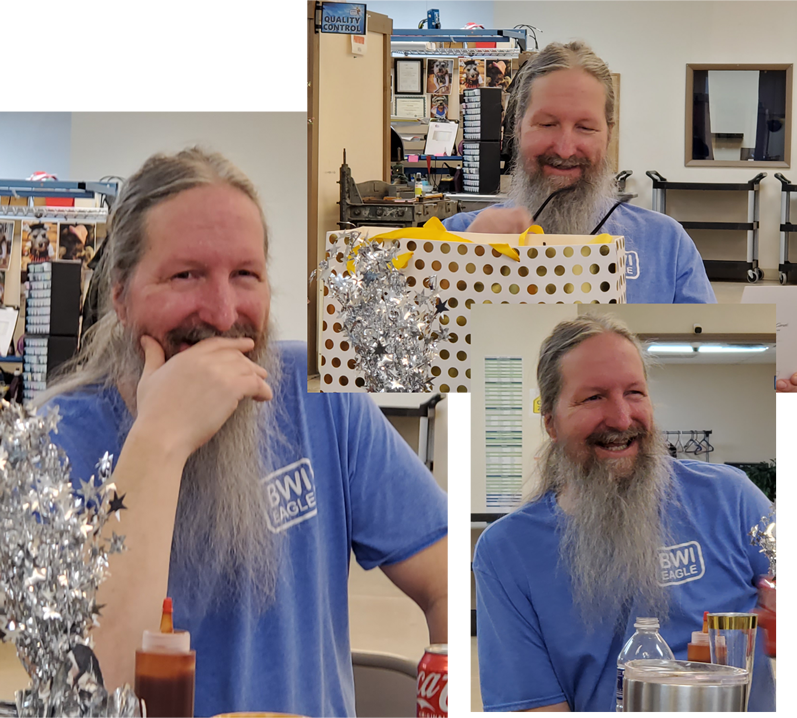 You might be surprised to learn that when he's not designing top quality remote control systems, John is quite the chef in his free time. His service award gifts included several personally engraved chef knives and chef attire, along with a home security system.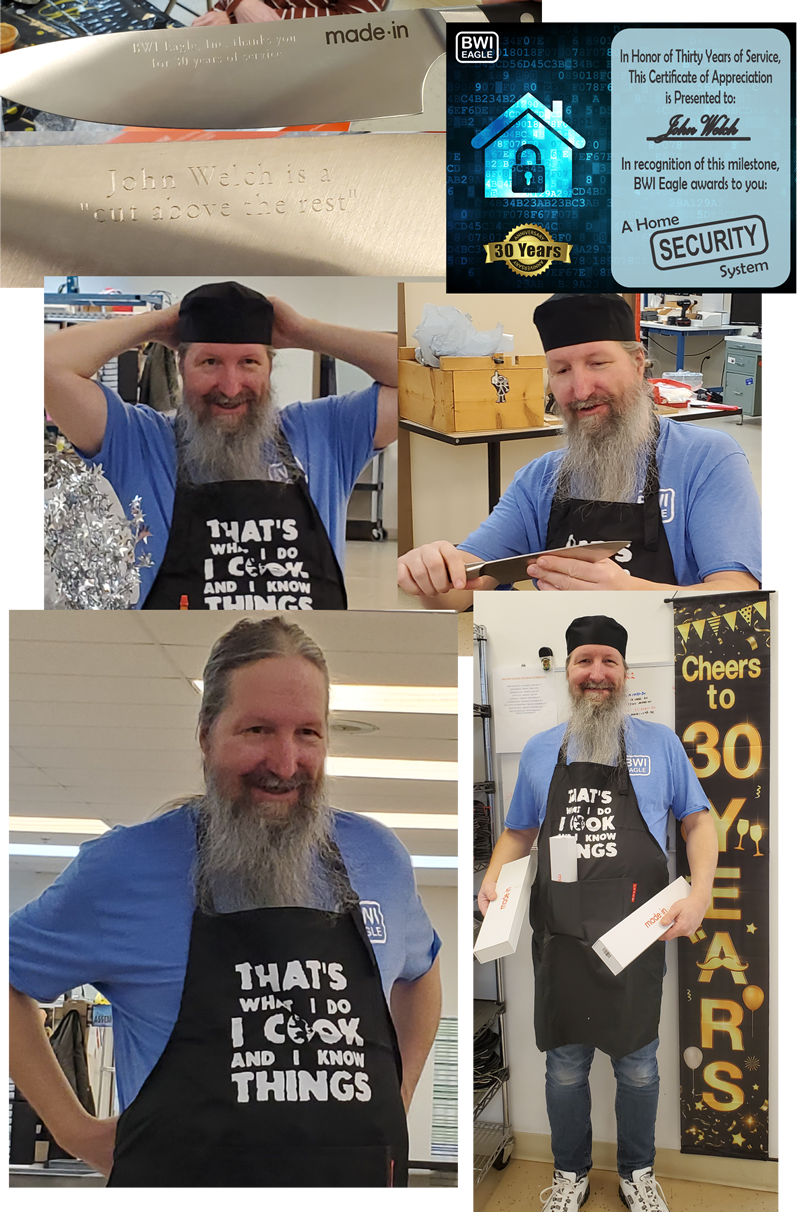 Congratulations, John! We appreciate you for your thirty years of loyal service!